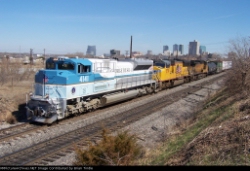 Welcome to the RRPictureArchives.NET contributor site of Brian Tindle.



Thanks for stopping by!

I'm not the greatest photographer, nor will I ever claim to be, but I enjoy getting out, photographing, and on occasion, chasing that "train of the day".

I take my photographs at various locations throughout D/FW and the North Texas Region.

The BNSF Madill Sub is where I mostly play around at, but you will find me on the BNSF DFW Sub, BNSF Ft Worth Sub, BNSF Red Rock Sub, and a few on the BNSF Wichita Falls Sub. I like to visit the BNSF Sherman Yard, BNSF Alliance Yard, BNSF Saginaw Yard, BNSF North Yard, BNSF Irving Yard, andonce in a while, I go to the BNSF Temple yard.

I enjoy the D/FW area shortline; Dallas, Garland, and the Northeastern (DGNO) and have photographed most of their equipment. Their yards in Carrollton (Mercer), Dallas (Mockingbird) and (Cadiz), Sherman (Sherman MKT Depot) are prime targets for me, as the crews and others are so friendly. Ft Worth Western Railroad(FWWR) at their Hodge Yard in Ft Worth, and their line out to Carrollton, TX.

I also photograph lots of UP, mostly in Downtown Dallas. The UP Dallas Sub, UP Ennis Sub, UP Midlothian Sub, UP Baird Sub, UP Duncan Sub, and UP Choctaw Sub are subdivisions that I photograph at, but not as often as I used to. I go to the UP Miller Yard and UP Browder Yard occasionally, and to UP's Ennis, Centennial, Ney, New, Chico, Garrett, Ray, and good ol' Tower 55, but not very often.

KCS makes an appearance here in Dallas, but it isnt a very big one. I like to stop by the KCS Dallas Yard (which houses a small IMF) especially early in the AM. I like the way the morning sun bounces of those gray locos. A few times a year I make the pilgrimage north to the KCS Wylie Yard, when I really have the KCS bug. I also like to follow the KCS Alliance Sub, sometimes called the KCS Trancon, out to CP Metro. CP Metro is apparently the furthest west KCS owned trackage goes. KCS trains come out there to meet BNSF trains. They trade their trains off and go home, or take them into the BNSF Alliance Yard



You may browse my collection of pictures via the menu located on the left hand side of the page. I hope you enjoy the collection and thanks for stopping by!